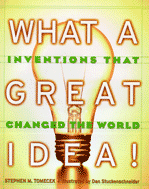 Books by Steve "The Dirtmeister®" Tomecek
What A Great Idea!
Published by Scholastic Non Fiction
$ 20.00 hard cover
Written for students in grades 4 and up, this dynamic new book is an awe-inspiring journey through two million years of human invention. From the hand ax to the laser, it takes an in-depth look at 45 technological touchstones that have helped change the course of human history.
In addition to the complete story behind the invention, each section contains crisp, precision illustrations which bring the text to life.